OCTAVIA BUTLER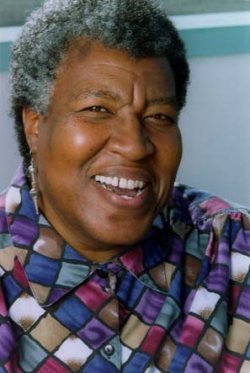 Like Samuel R. Delany Octavia Butler has been writing science fiction since 1970 and published her first short story Crossover, in 1971. Born in Pasedena California, she is the author of a number of books in which African-Americans figure prominently. Her first novel, Patternmaster, was the first of a five-book series, documenting the evolution of a select group of human beings into a community linked psychically. Her short story Bloodchild won both the Hugo and the Nebula awards, and Wild Seed of the Patternmaster series won the James Tiptree Award. Butler was also awarded the McArthur Genius Award in 1995. Like Nola Hopkinson, Butler's fiction often integrates aspects of African-descended spiritualisms and traditions into the main plot of her stories.


Bibliography

Novels

Patternmaster (1976)
Mind my Mind (1977)
Survivor (1978)
Wild Seed (1980)
Clay's Ark (1984)

Dawn: Xeogenesis (1987)
Adulthood Rites (1988)
Imago (1989)

Kindred (1979)
Bloodchild and Other Stories (1995, collection of short stories)
The Parable of the Sower (1993)
The Parable of the Talents (1998)
Interviews
Marion Zimmer Bradley's Fantasy Magazine
Locus Magazine of June 2000
Terra Cognito magazine, Issue I
Interview on ABC NEWS



---
Check out my pages on Samuel R. Delany and Nalo Hopkinson, two well-known
African-American Sci-fi and Fantasy novelists.

| Samuel R. Delany | Nalo Hopkinson|
OR
go back to my Home Page